Time for another round of my 'mini-meme', On My Radar, in which I highlight books I've come across that seem especially interesting. These may be just released books or they may be older books I was not previously aware of, but either way, there is something about them that caught my eye. I haven't decided if will actually read any of them yet, but I do want to follow the reviews to see what others think. That's why they are ON MY RADAR!
If you do a similar post, be sure to link it up below. Maybe I'll find something else that should be on my radar.
And if you do a review of any of the books here, please leave a link in the comments so I can see what you thought of it! It may help me decide what to read next!
Here are some of the books that are currently ON MY RADAR...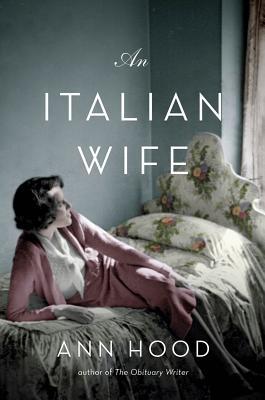 An Italian Wife is the extraordinary story of Josephine Rimaldi—her joys, sorrows, and passions, spanning more than seven decades. The novel begins in turn-of-the-century Italy, when fourteen-year-old Josephine, sheltered and naive, is forced into an arranged marriage to a man she doesn't know or love who is about to depart for America, where she later joins him. Bound by tradition, Josephine gives birth to seven children. The last, Valentina, is conceived in passion, born in secret, and given up for adoption.
Josephine spends the rest of her life searching for her lost child, keeping her secret even as her other children go off to war, get married, and make their own mistakes. Her son suffers in World War I. One daughter struggles to assimilate in the new world of the 1950s American suburbs, while another, stranded in England, grieves for a lover lost in World War II. Her granddaughters experiment with the sex, drugs, and rock-and-roll in the 1970s. Poignant, sensual, and deeply felt, An Italian Wife is a sweeping and evocative portrait of a family bound by love and heartbreak.
A haunting debut novel about a mixed-race family living in 1970s Ohio and the tragedy that will either be their undoing or their salvation.
Lydia is dead. But they don't know this yet . . . So begins the story of this exquisite debut novel, about a Chinese American family living in 1970s small-town Ohio. Lydia is the favorite child of Marilyn and James Lee; their middle daughter, a girl who inherited her mother's bright blue eyes and her father's jet-black hair. Her parents are determined that Lydia will fulfill the dreams they were unable to pursue—in Marilyn's case that her daughter become a doctor rather than a homemaker, in James's case that Lydia be popular at school, a girl with a busy social life and the center of every party.
When Lydia's body is found in the local lake, the delicate balancing act that has been keeping the Lee family together tumbles into chaos, forcing them to confront the long-kept secrets that have been slowly pulling them apart. James, consumed by guilt, sets out on a reckless path that may destroy his marriage. Marilyn, devastated and vengeful, is determined to find a responsible party, no matter what the cost. Lydia's older brother, Nathan, is certain that the neighborhood bad boy Jack is somehow involved. But it's the youngest of the family—Hannah—who observes far more than anyone realizes and who may be the only one who knows the truth about what happened.
A profoundly moving story of family, history, and the meaning of home, Everything I Never Told You is both a gripping page-turner and a sensitive family portrait, exploring the divisions between cultures and the rifts within a family, and uncovering the ways in which mothers and daughters, fathers and sons, and husbands and wives struggle, all their lives, to understand one another.
The death of Judd Foxman's father marks the first time that the entire Foxman clan has congregated in years. There is, however, one conspicuous absence: Judd's wife, Jen, whose affair with his radio- shock-jock boss has recently become painfully public. Simultaneously mourning the demise of his father and his marriage, Judd joins his dysfunctional family as they reluctantly sit shiva-and spend seven days and nights under the same roof. The week quickly spins out of control as longstanding grudges resurface, secrets are revealed and old passions are reawakened. Then Jen delivers the clincher: she's pregnant.
In 1886, Gretta Pope wakes one morning to discover that her husband is gone. Ulysses Pope has left his family behind on the far edge of Minnesota's western prairie with only the briefest of notes and no explanation for why he left or where he's headed. It doesn't take long for Gretta's young sons, Eli and Danny, to set off after him, following the scant clues they can find, jumping trains to get where they need to go, and ending up in the rugged badlands of Montana.
Gretta has no choice but to search for her sons and her husband, leading her to the doorstep of a woman who seems intent on making Ulysses her own. Meanwhile, the boys find that the closer they come to Ulysses' trail, the greater the perils that confront them, until each is faced with a choice about whom he will defend, and who he will become.
Enger's breathtaking portrait of the vast plains landscape is matched by the rich expanse of his characters' emotional terrain, as pivotal historical events--the bloody turmoil of expansionism, the near total demise of the bison herds, and the subjugation of the Plains Indians--blend seamlessly with the intimate story of a family's sacrifice and devotion.
October 1962. The Soviet Union has smuggled missiles into Cuba. Kennedy and Khrushchev are in the midst of a military face-off that could lead to nuclear conflagration. Warships and submarines are on the move. Planes are in the air. Troops are at the ready. Both leaders are surrounded by advisers clamoring for war. The only way for the two leaders to negotiate safely is to open a "back channel"—a surreptitious path of communication hidden from their own people. They need a clandestine emissary nobody would ever suspect. If the secret gets out, her life will be at risk . . . but they're careful not to tell her that.
Stephen L. Carter's gripping new novel, Back Channel, is a brilliant amalgam of fact and fiction—a suspenseful retelling of the Cuban Missile Crisis, in which the fate of the world rests unexpectedly on the shoulders of a young college student.
On the island of Curaçao, a visiting Soviet chess champion whispers state secrets to an American acquaintance.
In the Atlantic Ocean, a freighter struggles through a squall while trying to avoid surveillance.
And in Ithaca, New York, Margo Jensen, one of the few black women at Cornell, is asked to go to Eastern Europe to babysit a madman.
As the clock ticks toward World War III, Margo undertakes her harrowing journey. Pursued by the hawks on both sides, protected by nothing but her own ingenuity and courage, Margo is drawn ever more deeply into the crossfire—and into her own family's hidden past.