Wow! I haven't done one of these in a long time. I guess it's time I do a post about what's 'on my radar'. 'On My Radar' highlights books I've come across that seem especially interesting. These may be just released books or they may be older books I was not previously aware of, but either way, there is something about them that caught my eye. I haven't decided if I will actually read these yet, but I do want to follow the reviews to see what others think. That's why they are ON MY RADAR!
If you do a similar post, be sure to link it up below. Maybe I'll find something else that should be on my radar.
And if you do a review of any of the books here, please leave a link in the comments so I can see what you thought of it! It may help me decide what to read next!
Here are some of the books that are currently ON MY RADAR...
A transcendent work of narrative nonfiction in the vein of The Hare with Amber Eyes-at once a stunning story of detection, a loving portrait of a flawed women trying to survive in terrible times, and a spellbinding slice of history
"A most strange and compelling book driven by the writer's unsparing search for truth: now an optimistic hunt for a family heroine, now a study in female wiles of survival, now a portrait of one very ordinary person's frailty in the face of terrible odds."-John le Carré
When Nicholas Shakespeare stumbled across a trunk full of his late aunt's personal belongings, he was unaware of where this discovery would take him and what he would learn about her hidden past. The glamorous, mysterious figure he remembered from his childhood was very different from the morally ambiguous young woman who emerged from the trove of love letters, journals and photographs, surrounded by suitors and living the precarious existence of a British citizen in a country controlled by the enemy.
As a young boy, Shakespeare had always believed that his aunt was a member of the Resistance and had been tortured by the Germans. The truth turned out to be far more complicated.
Balm
by Dolen Perkins-Valdez
The Civil War has ended, and Madge, Sadie, and Hemp have each come to Chicago in search of a new life.
Born with magical hands, Madge has the power to discern others' suffering, but she cannot heal her own damaged heart. To mend herself and help those in need, she must return to Tennessee to face the women healers who rejected her as a child.
Sadie can commune with the dead, but until she makes peace with her father, she, too, cannot fully engage her gift.
Searching for his missing family, Hemp arrives in this northern city that shimmers with possibility. But redemption cannot be possible until he is reunited with those taken from him.
In the bitter aftermath of a terrible, bloody war, as a divided nation tries to come together once again, Madge, Sadie, and Hemp will be caught up in a desperate, unexpected battle for survival in a community desperate to lay the pain of the past to rest.
Beautiful in its historical atmosphere and emotional depth, Balm is a stirring novel of love, loss, hope, and reconciliation set during one of the most critical periods in American history.
As a Gracekeeper, Callanish administers shoreside burials, sending the dead to their final resting place deep in the depths of the ocean. Alone on her island, she has exiled herself to a life of tending watery graves as penance for a long-ago mistake that still haunts her. Meanwhile, North works as a circus performer with the Excalibur, a floating troupe of acrobats, clowns, dancers, and trainers who sail from one archipelago to the next, entertaining in exchange for sustenance.
In a world divided between those inhabiting the mainland ("landlockers") and those who float on the sea ("damplings"), loneliness has become a way of life for North and Callanish, until a sudden storm offshore brings change to both their lives--offering them a new understanding of the world they live in and the consequences of the past, while restoring hope in an unexpected future.
Inspired in part by Scottish myths and fairytales, The Gracekeepers tells a modern story of an irreparably changed world: one that harbors the same isolation and sadness, but also joys and marvels of our own age..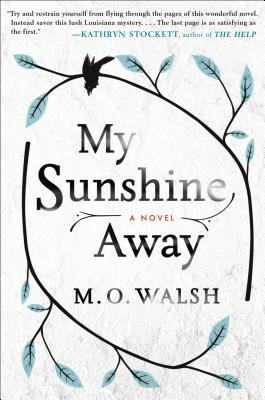 "It was the summer everything changed...."
"My Sunshine Away" unfolds in a Baton Rouge neighborhood best known for cookouts on sweltering summer afternoons, cauldrons of spicy crawfish, and passionate football fandom. But in the summer of 1989, when fifteen-year-old Lindy Simpson--free spirit, track star, and belle of the block--experiences a horrible crime late one evening near her home, it becomes apparent that this idyllic stretch of Southern suburbia has a dark side, too.
In "My Sunshine Away," M.O. Walsh brilliantly juxtaposes the enchantment of a charmed childhood with the gripping story of a violent crime, unraveling families, and consuming adolescent love. Acutely wise and deeply honest, it is an astonishing and page-turning debut about the meaning of family, the power of memory, and our ability to forgive.
When a grown-up tells you not to worry, you had better start—first rule of thumb, Sallee Mackey, age seven. She is already more than a little bit wary of the adults in her Jim Crow era, Southern world with good reason. Sallee's mother Ginny is flat out dangerous; her father Joe is on his way out the door; and Mr. Dabney the bigoted neighbor seems to be just a little too interested with the goings on at Sallee's house—like he knows something no one else does. The only adult to be trusted is Ethel, the family maid, who has known Sallee's mother since Ethel and Ginny were both girls.
That complicated relationship started the day Ethel spied Ginny kissing the black stable boy years ago. While Ginny has conveniently forgotten that she even knew Ethel back then, Sallee has not as she constantly lobs questions at Ethel about her mother's girlhood.
From Sallee's oft times humorous and always guileless vantage, grownups have a most mixed up view of the world. What does skin color have to do with learning? Closing schools rather than have black and white children in the same classroom, what's the sense of that?
Ethel gives her very own biased account of her shared history with Ginny while Sallee hones her vigilance and stealth, skills she and her brother and two sisters have acquired in an attempt to understand the drama that swirls around them. Rocks are thrown through windows, a car filled with angry white men shout racial slurs at the children at play and a tragic poisoning threatens the entire family's sense of security.
When Joe Mackey asks Ethel to testify on his behalf in a custody suit, her conflicted loyalties throw the entire family into even more turmoil.