'On My Radar' highlights books I've come across that seem especially interesting. These may be just released books or they may be older books I was not previously aware of, but either way, there is something about them that caught my eye. I haven't decided if I will actually read these yet, but I do want to follow the reviews to see what others think. That's why they are ON MY RADAR!
If you've read any of these, let me know what you think. Link me up to your review if you have one. And if you do a similar post, be sure to link it up below. Maybe I'll find something else that should be on my radar!
Here are just a few of the many books that are currently
ON MY RADAR...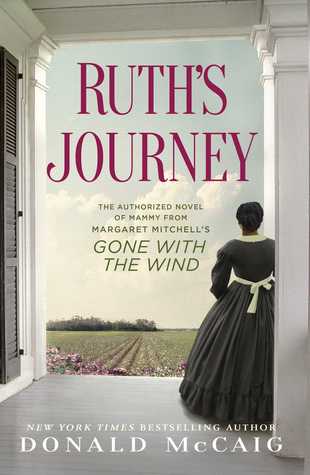 Authorized by the Margaret Mitchell Estate, here is the first-ever prequel to one of the most beloved and bestselling novels of all time, Gone with the Wind. The critically acclaimed author of Rhett Butler's People magnificently recounts the life of Mammy, one of literature's greatest supporting characters, from her days as a slave girl to the outbreak of the Civil War.
"Her story began with a miracle." On the Caribbean island of Saint Domingue, an island consumed by the flames of revolution, a senseless attack leaves only one survivor—an infant girl. She falls into the hands of two French émigrés, Henri and Solange Fournier, who take the beautiful child they call Ruth to the bustling American city of Savannah.
What follows is the sweeping tale of Ruth's life as shaped by her strong-willed mistress and other larger-than-life personalities she encounters in the South: Jehu Glen, a free black man with whom Ruth falls madly in love; the shabbily genteel family that first hires Ruth as Mammy; Solange's daughter Ellen and the rough Irishman, Gerald O'Hara, whom Ellen chooses to marry; the Butler family of Charleston and their shocking connection to Mammy Ruth; and finally Scarlett O'Hara—the irrepressible Southern belle Mammy raises from birth. As we witness the difficult coming of age felt by three generations of women, gifted storyteller Donald McCaig reveals a portrait of Mammy that is both nuanced and poignant, at once a proud woman and a captive, and a strict disciplinarian who has never experienced freedom herself. But despite the cruelties of a world that has decreed her a slave, Mammy endures, a rock in the river of time. She loves with a ferocity that would astonish those around her if they knew it. And she holds tight even to those who have been lost in the ravages of her days.
Set against the backdrop of the South from the 1820s until the dawn of the Civil War, here is a remarkable story of fortitude, heartbreak, and indomitable will—and a tale that will forever illuminate your reading of Margaret Mitchell's unforgettable classic, Gone with the Wind.
From the bestselling and highly acclaimed author of Mrs. Poe comes a fictionalized imagining of the personal life of America's most iconic writer: Mark Twain.
In March of 1909, Mark Twain cheerfully blessed the wedding of his private secretary, Isabel V. Lyon, and his business manager, Ralph Ashcroft. One month later, he fired both. He proceeded to write a ferocious 429-page rant about the pair, calling Isabel "a liar, a forger, a thief, a hypocrite, a drunkard, a sneak, a humbug, a traitor, a conspirator, a filthy-minded and salacious slut pining for seduction."Twain and his daughter, Clara Clemens, then slandered Isabel in the newspapers, erasing her nearly seven years of devoted service to their family. How did Lyon go from being the beloved secretary who ran Twain's life to a woman he was determined to destroy?
In Twain's End, Lynn Cullen reimagines the tangled relationships between Twain, Lyon, and Ashcroft, as well as the little-known love triangle between Helen Keller, her teacher Anne Sullivan Macy, and Anne's husband, John Macy, which comes to light during their visit to Twain's Connecticut home in 1909. Add to the party a furious Clara Clemens, smarting from her own failed love affair, and carefully kept veneers shatter.
Based on Isabel Lyon's extant diary, Twain's writings and letters, and events in Twain's boyhood that may have altered his ability to love, Twain's End explores this real-life tale of doomed love.
Winter, 1564. Beautiful young Princess Margot is summoned to the court of France, where nothing is what it seems and a wrong word can lead to ruin. Known across Europe as
Madame la Serpente
, Margot's intimidating mother, Queen Catherine de Médicis, is a powerful force in a country devastated by religious war. Among the crafty nobility of the royal court, Margot learns the intriguing and unspoken rules she must live by to please her poisonous family.
Eager to be an obedient daughter, Margot accepts her role as a marriage pawn, even as she is charmed by the powerful, charismatic Duc de Guise. Though Margot's heart belongs to Guise, her hand will be offered to Henri of Navarre, a Huguenot leader and a notorious heretic looking to seal a tenuous truce. But the promised peace is a mirage: her mother's schemes are endless, and her brothers plot vengeance in the streets of Paris. When Margot's wedding devolves into the bloodshed of the St. Bartholomew's Day Massacre, she will be forced to choose between her family and her soul.
Médicis Daughter
is historical fiction at its finest, weaving a unique coming-of-age story and a forbidden love with one of the most dramatic and violent events in French history.
May Alcott spends her days sewing blue shirts for Union soldiers, but she dreams of painting a masterpiece—which many say is impossible for a woman—and of finding love, too. When she reads her sister's wildly popular novel, Little Women, she is stung by Louisa's portrayal of her as "Amy," the youngest of four sisters who trades her desire to succeed as an artist for the joys of hearth and home. Determined to prove her talent, May makes plans to move far from Massachusetts and make a life for herself with room for both watercolors and a wedding dress. Can she succeed? And if she does, what price will she have to pay? Based May Alcott's letters and diaries, as well as memoirs written by her neighbors, Little Woman in Blue puts May at the center of the story she might have told about sisterhood and rivalry in an extraordinary family.
Pre-wedding jitters turn into serious doubts in this fresh and funny debut about tying the knot and untethering from the past...
Everyone's expecting her to walk down the aisle.
But something is telling her to run.
Emma Moon's mother thinks it's acceptable to miss her only daughter's wedding rehearsal dinner for a work obligation. Her father left when she was six months old. Emma hasn't exactly been raised to be a happily-ever-after kind of girl.
So when her anxieties get out of hand, Emma and her best friend, Liv, decide to take a road trip to San Francisco, find her long-lost father, and put her family issues to rest.
But her quest for the truth stirs up events and emotions she didn't expect. The urge to run away may just be a part of Emma's genetic makeup, because she's growing more and more tempted to do just that…