Every Tuesday Diane at
Bibliophile by the Sea
hosts
First Chapter First Paragraph Tuesday Intros
, where you can share the first paragraph, or a few, of a book you are reading or thinking about reading soon.
Teaser Tuesdays
is a weekly bookish meme, hosted by MizB of
Should Be Reading
.
Anyone can play along!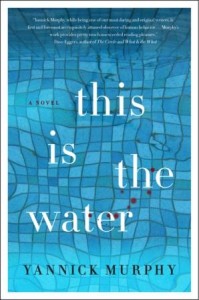 At a swim meet in their quiet New England town, Annie watches as her daughters glide through the water. Her thoughts drift lazily from whether she fed her daughters enough carbs that morning to why her husband doesn't kiss her anymore, to Paul, a swim-team parent, who's taken notice of her and seems to embody everything she's beginning to think her life is missing.
When a girl on the team is murdered at a nearby highway rest stop—the same spot where Paul made a gruesome discovery years ago—Annie and her fellow swim-parents find themselves adrift. With a serial killer too close for comfort, they must make choices about where their loyalties lie. And as a series of shocking events unfolds, Annie must discover what it means to follow her intuition—even if love, as well as lives, could be lost.
This is the water, lapping the edge of the pool, coming up in small waves as children race through it. This is the swim mom named Dinah wearing the team shirt with a whale logo on it, yelling at her daughter Jessie to swim faster. This is Jessie who cannot hear Dinah because Jessie is in the water. Jessie is singing a song to herself: She is singing, "This old man, he played on. He played knick knack on his thumb." Dinah is red in the face, standing in the stands. Dinah moves her hand in the air as if to help hurry her daughter along. Behind the starting blocks the water comes up over the edge of teh pool and splashes the parents who are timing on deck.
"I have confessions of my own," he says.
"That sounds ominous," you say, jokingly. The canned laughter gets louder.
So...what do you think? Is this one you would pick up? Leave a comment below!