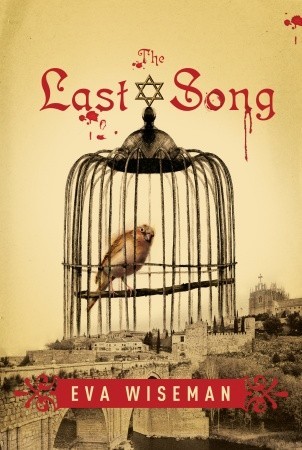 Why did you choose this book?
I was attracted to the cover and it is historical ficiton
When did you read this book?
March 2015
Who should read this book?
readers of historical fiction
Source:
Library Thing Early Reviewers
Spain had been one of the world's most tolerant societies for eight hundred years, but that way of life was wiped out by the Inquisition. Isabel's family feels safe from the terrors, torture, and burnings. After all, her father is a respected physician in the court of Ferdinand and Isabella. Isabel was raised as a Catholic and doesn't know that her family's Jewish roots may be a death sentence. When her father is arrested by Torquemada, the Grand Inquisitor, she makes a desperate plan to save his life – and her own.
Once again, master storyteller Eva Wiseman brings history to life in this riveting and tragic novel.
I picked up this book because of the interesting cover. The synopsis also sounded interesting, and I decided I wanted to read the book. I had heard of the 'Spanish Inquisition' but I really didn't know much about it, and I thought this would be a good way to learn. When I picked the book up, I did not realize it is written for young adults, though I probably should have guessed this based on the thickness of the book! The good — the book is a quick, easy read and I learned something new. The not so good — the story is a bit simplistic.
My only knowledge of the Inquisition prior to reading this book was that people were tortured. I didn't realize that the goal was to weed out 'pseudo-Christians'. I also did not realize that Jews were expelled from Spain at the time. Another thing I didn't realize is that this all went on during the time of Christopher Columbus and his voyage on behalf of Spain!
While I enjoyed the book, some of the events were a bit of a stretch. Isabel, the main character, is a fourteen year old girl from a wealthy family who has been raised in the Catholic church. She has been taught that Jews are beneath her; "evil, vile creatures". She has been promised by her family that she would be allowed her to choose her own husband and not be forced into an arranged marriage. So imagine her shock when her father returns from a business trip with the boy he has chosen to be her husband; a boy to whom she takes an instant dislike! Her father explains it is all for her own good, of course. At her engagement party, one of the 'evil Jews', son of a silversmith, delivers a beautiful bowl for her center piece. Overnight, not only does Isabel decide that Jews are not, after all, evil creatures, but in fact, she goes from being a devout Catholic girl to experiencing a religious conversion and secretly studying the Torah. I would have preferred a little more character development for Isabel, but of course, this is a young adult book and moves too quickly to allow much character development. I did enjoy this book and found the story interesting, but it left me wanting to know more. If you also are left wanting to know more, you may be interested in a podcast from
Stuff You Missed In History Class
;
The Expulsion of the Jews from Spain
.
My Rating:
★★1/2 2-1/2 Stars
I received a review copy of this book through the
Library Thing Early Reviewers
program and have written an honest review which appears above.