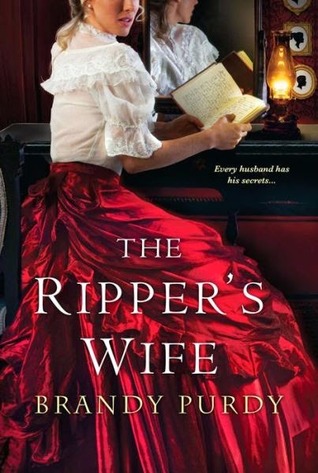 Why did you choose this book?
I saw this reviews on several blogs and knew I would read it!
When did you read this book?
November 2014
Who should read this book?
readers of historical fiction
Source:
review copy from author
It begins as a fairytale romance-a shipboard meeting in 1880 between vivacious Southern belle Florence Chandler and handsome English cotton broker James Maybrick. Courtship and a lavish wedding soon follow, and the couple settles into an affluent Liverpool suburb.
From the first, their marriage is doomed by lies. Florie, hardly the heiress her scheming mother portrayed, is treated as an outsider by fashionable English society. James's secrets are infinitely darker-he has a mistress, an arsenic addiction, and a vicious temper. But Florie has no inkling of her husband's depravity until she discovers his diary-and in it, a litany of bloody deeds...
Fact: Jack The Ripper murdered at least five women in 1888.
Fact: Florrie Maybrick was convicted of poisoning her husband, James, and served 15 year in prison.
Fact: A diary allegedly written by James Maybrick identifying himself as Jack the Ripper surfaced in 1992.
Brandy Purdy has taken these facts and woven a fantastic story of the marriage of Florrie Chandler to James Maybrick and of his secret life as Jack the Ripper. Many question the authenticity of the diary, but it makes for some great fiction! As anyone who reads my blog regularly knows, one thing that I expect from good historical fiction is that it compel me to google the story when I finish the book, in an effort to learn more about the people in the story. This one certainly did not fail me! In fact, I did not even wait for the end of the book, but googled periodically as new points came up! Of course it took me a little longer to finish the book this way, but it was worth it.
One thing that really surprised me is how relatively few murders Jack the Ripper is believed to be responsible for. I had heard of him, of course, and knew of the terror he caused, and I always assumed he'd murdered dozens of women. But in fact, he is only known to have killed five women, with two more murders possibly attributed to him.
I had never heard of James or Florrie Maybrick, but their story turned out to be quite sensational for it's time. Her murder trial was front page news around the world. She was an American accused of murder in a foreign country, England, where she had never really been accepted into society. She had supporters who rallied behind her, demanding 'justice' for her, and working for her release after she was imprisoned. In some ways it made me think of the Amanda Knox story.
There are many events in this book that may or may not have really have taken place; historians don't quite agree on that. But true or not, the book is a page turner, and you will learn a lot. One thing I really liked about the book is the attention to detail. The writing is detailed with wonderful descriptions of the surroundings and of Florrie's thoughts. However, this detailed writing does mean there is one thing I feel the need to mention; often times, especially when we are reading from James' point of view, the language is vulgar, and the descriptions of the murders are gory and grotesque. Much of the facts are taken from the diary discovered in 1992 and news accounts of the time, and we are dealing with the thoughts of a sadistic murderer, so it is not really surprising to see this in a story of Jack the Ripper. Still, if this will bother you, I would suggest you pass on this book, and it is definitely not a book you want your younger teens reading! But if you are prepared for a graphic read, and you enjoy historical fiction, you definitely should have this one on your list!
(Oh....did I mention I LOVE the cover!!)
My Rating:
★★★★1/2 4-1/2 Stars
I received a review copy of this book from the author. (Thank you, Brandy!) My honest review appears above!