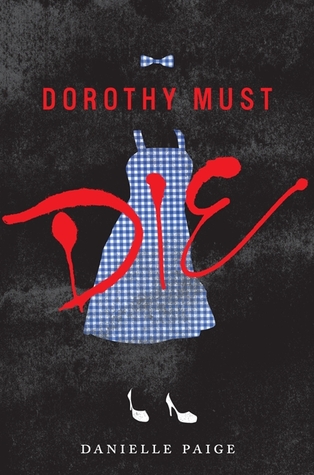 Why did you choose this book?
I read anything and everything 'Titanic'!
When did you read this book?
November 2014
Who should read this book?
readers of fantasy & fairy tale retellings
I didn't ask for any of this. I didn't ask to be some kind of hero.
But when your whole life gets swept up by a tornado—taking you with it—you have no choice but to go along, you know?
Sure, I've read the books. I've seen the movies. I know the song about the rainbow and the happy little blue birds. But I never expected Oz to look like this. To be a place where Good Witches can't be trusted, Wicked Witches may just be the good guys, and winged monkeys can be executed for acts of rebellion. There's still the yellow brick road, though—but even that's crumbling.
They say she found a way to come back to Oz. They say she seized power and the power went to her head. And now no one is safe.
My name is Amy Gumm—and I'm the other girl from Kansas.
I've been recruited by the Revolutionary Order of the Wicked, and I've been given a mission:
What a fun read! I picked this one up based on the cover….an obvious indication that this is a 'Wizard of Oz' story. And everything we remember about the Wizard of Oz is here; Dorothy, the Tin Man, the Scarecrow, the Lion, Glinda...and even the flying monkeys! It is not Oz the way we remember it, but Oz it is!
The story begins with Amy Gumm, a Kansas girl, landing in Oz as the result of a tornado. Sound familiar? (One interesting fact; Judy Garland, Dorothy in the Wizard of Oz, was born Frances Gumm.) When Amy arrives in Oz, she immediately recognizes that she is in Oz, but nothing is as it should be. There is magic, there are munchkins, and there is even a yellow brick road; but everything is dark and evil. Dorothy is back, and Dorothy is evil! Amy joins forces with the Revolutionary Order of the Wicked, and is given the assignment to kill Dorothy thus restoring Oz to its former glory.
This is story is full of action and full of magic! There are plenty of twists leaving the reader to wonder who is really good and who is really evil….and what exactly is going on??!! I really enjoyed the journey! The only thing I did not enjoy was the fact that this is the first book in a series….and the next one,
The Wicked Will Rise
, won't be released until March!!! There is a prequel novella available,
No Place Like Oz
, so I will have to pick that one up while I wait!
My Rating:
★★★★1/2 4-1/2 Stars