Every Tuesday Diane at
Bibliophile by the Sea
hosts
First Chapter First Paragraph Tuesday Intros
, where you can share the first paragraph, or a few, of a book you are reading or thinking about reading soon.
Teaser Tuesdays
is a weekly bookish meme, hosted by MizB of
Should Be Reading
.
Anyone can play along!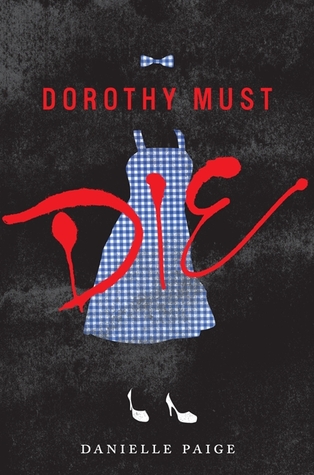 I didn't ask for any of this. I didn't ask to be some kind of hero.
But when your whole life gets swept up by a tornado—taking you with it—you have no choice but to go along, you know?
Sure, I've read the books. I've seen the movies. I know the song about the rainbow and the happy little blue birds. But I never expected Oz to look like this. To be a place where Good Witches can't be trusted, Wicked Witches may just be the good guys, and winged monkeys can be executed for acts of rebellion. There's still the yellow brick road, though—but even that's crumbling.
They say she found a way to come back to Oz. They say she seized power and the power went to her head. And now no one is safe.
My name is Amy Gumm—and I'm the other girl from Kansas.
I've been recruited by the Revolutionary Order of the Wicked, and I've been given a mission:
I first discovered I was trash three days before my ninth birthday — one year after my father lost his job and moved to Secaucus to live with a woman named Crystal and four years before my mother had the car accident, started taking pills, and began exclusively wearing bedroom slippers instead of normal shoes.
I was informed of my trashiness in the playground by Madison Pendleton, a girl in a pink Target sweat suit who thought she was all that because her house had one and a half bathrooms.
"Salvation Amy's trailer trash", she told the other girls on the monkey bars while I was dangling upside down by my knees and minding my own business, my pigtails scraping the sand. "That means she doesn't have any money and all her clothes are dirty. You shouldn't go to her birthday party or you'll be dirty, too."
I was still wavering when Star hissed at me angrily. I knew what she was trying to tell me. With a twinge of regret, I chased after Indigo. Sometimes you just have to trust your pet rat's instincts.
So...what do you think? Is this one you would pick up? Leave a comment below!