An Old-Fashioned Christmas
Why I chose this book?
one can never get too much Christmas!
When I read this book?
November 2015
Who should read this book?
readers who love all things Christmas
With its trademark snow, piney forests, sleigh rides and woodsmoke curling out of village chimneys, New England was practically invented for the Christmas postcard. It's got your Christmas goose and the maple syrup with which to glaze it. It's most of the reason author Ellen Stimson made Vermont her home. Here she shares recipes that have been in her family for generations, mixes up a cocktail or two, and invites readers to make their own traditions.
I'm not even sure where to begin my review. This book is such a comfy-cozy immersion into Christmas! From the first page, I knew I would love this book when I read this quote:
"We are the kind of people who decide where the Christmas tree might go before we buy the house. (Doesn't everyone?)"
I know I do. The first thing I look for is where I will put the Tree and the next thing is where I will hide from the tornadoes — something I think the author could relate to. You see, the other thing that made this book such a comfortable read for me was the mentions to places the author had spent time that I recognized; Elsah, Illinois, Famous-Barr Christmas displays, and the 'little steel town' she grew up in just "east of the Mississipi." I'm pretty sure I know which one that is, since there are only two that I know of, and the one I grew up in would be better described as a 'manufacturing town with a steel mill". But I've been to hers many times.
I loved how this book was set up, with each section beginning with a small family anecdote about Christmas. This led to a larger story with more detail about her family Christmas traditions and how they came to be. And then of course….the recipes! I'm not sure how many I will actually make, but just reading through them is a pleasure! And the are beautifully illustrated, as is the entire book. I get a warm feeling as I read about one of her soups and sitting by the fire! She also does a wonderful job selling the New England Christmas experience!
If you are a lover of all things Christmas, you will want to add this book to your collection. Then get ready to take a magical leap into a real Old-Fashioned Christmas!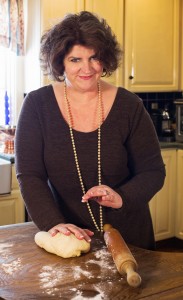 About Ellen Stimson
Ellen Stimson
is a bread-and-butter homecook…possibly more butter than bread. Her table is usually overflowing with friends, family, and folks who have come just to listen to her stories. Some of those tales made it into her bestselling memoir,
Mud Season
. She cooks and writes from a farmhouse in Vermont.
My Rating:
★★★★1/2 4-1/2 Stars






This book review is included in a tour by
TLC Book Tours
. I was provided a copy for review purposes.
TBD:
The Things We Read