It's time to tell you about what's 'on my radar'. 'On My Radar' highlights books I've come across that seem especially interesting. These may be just released books or they may be older books I was not previously aware of, but either way, there is something about them that caught my eye. I haven't decided if I will actually read these yet, but I do want to follow the reviews to see what others think. That's why they are ON MY RADAR!
If you do a similar post, be sure to link it up below. Maybe I'll find something else that should be on my radar.
And if you do a review of any of the books here, please leave a link in the comments so I can see what you thought of it! It may help me decide what to read next!
Here are some of the books that are currently ON MY RADAR...
At the end of the last century, Johnstown, Pennsylvania, was a booming coal-and-steel town filled with hardworking families striving for a piece of the nation's burgeoning industrial prosperity. In the mountains above Johnstown, an old earth dam had been hastily rebuilt to create a lake for an exclusive summer resort patronized by the tycoons of that same industrial prosperity, among them Andrew Carnegie, Henry Clay Frick, and Andrew Mellon. Despite repeated warnings of possible danger, nothing was done about the dam. Then came May 31, 1889, when the dam burst, sending a wall of water thundering down the mountain, smashing through Johnstown, and killing more than 2,000 people. It was a tragedy that became a national scandal.
Graced by David McCullough's remarkable gift for writing richly textured, sympathetic social history, The Johnstown Flood is an absorbing, classic portrait of life in nineteenth-century America, of overweening confidence, of energy, and of tragedy. It also offers a powerful historical lesson for our century and all times: the danger of assuming that because people are in positions of responsibility they are necessarily behaving responsibly.
Space is a world devoid of the things we need to live and thrive: air, gravity, hot showers, fresh produce, privacy, beer. Space exploration is in some ways an exploration of what it means to be human. How much can a person give up? How much weirdness can they take? What happens to you when you can't walk for a year? have sex? smell flowers? What happens if you vomit in your helmet during a space walk? Is it possible for the human body to survive a bailout at 17,000 miles per hour?
To answer these questions, space agencies set up all manner of quizzical and startlingly bizarre space simulations. As Mary Roach discovers, it's possible to preview space without ever leaving Earth. From the space shuttle training toilet to a crash test of NASA's new space capsule (cadaver filling in for astronaut), Roach takes us on a surreally entertaining trip into the science of life in space and space on Earth.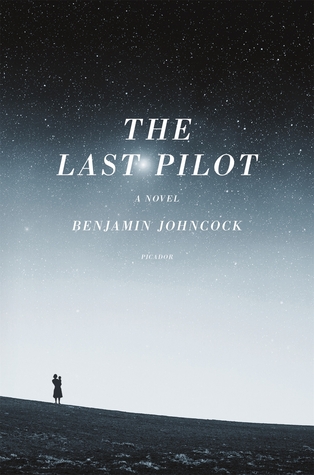 Jim Harrison is a test pilot in the United States Air Force, one of the exalted few. He spends his days cheating death in the skies above the Mojave Desert and his nights at his friend Pancho's bar, often with his wife, Grace. She and Harrison are secretly desperate for a child-and when, against all odds, Grace learns that she is pregnant, the two are overcome with joy.
While America becomes swept up in the fervor of the Space Race, Harrison turns his attention home, passing up the chance to become an astronaut to welcome his daughter, Florence, into the world. Together, he and Grace confront the thrills and challenges of raising a child head-on. Fatherhood is different than flying planes-less controlled, more anxious-however the pleasures of watching Florence grow are incomparable. But when his family is faced with a sudden and inexplicable tragedy, Harrison's instincts as a father and a pilot are put to test. As a pilot, he feels compelled to lead them through it-and as a father, he fears that he has fallen short.
The aftermath will haunt the Harrisons and strain their marriage as Jim struggles under the weight of his decisions. Beginning when the dust of the Second World War has only just begun to settle and rushing onward into the Sixties, Benjamin Johncock traces the path of this young couple as they are uprooted by events much larger than themselves. The turns the Harrisons take together are at once astonishing and recognizable; their journey, both frightening and full of hope. Set against the backdrop of one of the most emotionally charged periods in American history, The Last Pilot is a mesmerizing debut novel of loss and finding courage in the face of it from an extraordinary new talent.
For fans of The Curious Incident of the Dog in the Night-Time comes this landmark novel about autism, memory, and, ultimately, redemption.
Sent to a "therapeutic community" for autism at the age of eleven, Todd Aaron, now in his fifties, is the "Old Fox" of Payton LivingCenter. A joyous man who rereads the encyclopedia compulsively, he is unnerved by the sudden arrivals of a menacing new staffer and a disruptive, brain-injured roommate. His equilibrium is further worsened by Martine, a one-eyed new resident who has romantic intentions and convinces him to go off his meds to feel "normal" again. Undone by these pressures, Todd attempts an escape to return "home" to his younger brother and to a childhood that now inhabits only his dreams. Written astonishingly in the first-person voice of an autistic, adult man, Best Boy—with its unforgettable portraits of Todd's beloved mother, whose sweet voice still sings from the grave, and a staffer named Raykene, who says that Todd "reflects the beauty of His creation"—is a piercing, achingly funny, finally shattering novel no reader can ever forget.
Hannah, independent, headstrong, and determined not to follow in the footsteps of her bitterly divorced mother, has always avoided commitment. But one hot New York summer she meets Mark Reilly, a fellow Brit, and is swept up in a love affair that changes all her ideas about what marriage might mean.
Now, living in their elegant, expensive London townhouse and adored by her fantastically successful husband, she knows she was right to let down her guard.
But when Mark does not return from a business trip to the U.S. and when the hours of waiting for him stretch into days, the foundations of Hannah's certainty begin to crack. Why do Mark's colleagues believe he has gone to Paris not America? Why is there no record of him at his hotel? And who is the mysterious woman who has been telephoning him over the last few weeks?
Hannah begins to dig into her husband's life, uncovering revelations that throw into doubt everything she has ever believed about him. As her investigation leads her away from their fairytale romance into a place of violence and fear she must decide whether the secrets Mark has been keeping are designed to protect him or protect her . . .