I've been really good about adding books to my 'radar' list, but I've been really crummy about sharing those books with you. With that in mind, it's time to tell you about what's 'on my radar'. 'On My Radar' highlights books I've come across that seem especially interesting. These may be just released books or they may be older books I was not previously aware of, but either way, there is something about them that caught my eye. I haven't decided if I will actually read these yet, but I do want to follow the reviews to see what others think. That's why they are ON MY RADAR!
If you do a similar post, be sure to link it up below. Maybe I'll find something else that should be on my radar.
And if you do a review of any of the books here, please leave a link in the comments so I can see what you thought of it! It may help me decide what to read next!
Here are just a few of the many books that are currently ON MY RADAR...
They were teachers, students, chemists, writers, and housewives; a singer at the Paris Opera, a midwife, a dental surgeon. They distributed anti-Nazi leaflets, printed subversive newspapers, hid resisters, secreted Jews to safety, transported weapons, and conveyed clandestine messages. The youngest was a schoolgirl of fifteen who scrawled "V" for victory on the walls of her lycée; the eldest, a farmer's wife in her sixties who harbored escaped Allied airmen. Strangers to each other, hailing from villages and cities from across France, these brave women were united in hatred and defiance of their Nazi occupiers.
Eventually, the Gestapo hunted down 230 of these women and imprisoned them in a fort outside Paris. Separated from home and loved ones, these disparate individuals turned to one another, their common experience conquering divisions of age, education, profession, and class, as they found solace and strength in their deep affection and camaraderie.
In January 1943, they were sent to their final destination: Auschwitz. Only forty-nine would return to France.
A Train in Winter
draws on interviews with these women and their families; German, French, and Polish archives; and documents held by World War II resistance organizations to uncover a dark chapter of history that offers an inspiring portrait of ordinary people, of bravery and survival—and of the remarkable, enduring power of female friendship.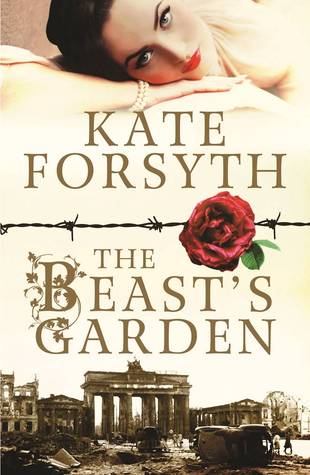 A retelling of The Beauty and The Beast set in Nazi Germany
The Grimm Brothers published a beautiful version of the Beauty & the Beast tale called 'The Singing, Springing Lark' in 1819. It combines the well-known story of a daughter who marries a beast in order to save her father with another key fairy tale motif, the search for the lost bridegroom. In 'The Singing, Springing Lark,' the daughter grows to love her beast but unwittingly betrays him and he is turned into a dove. She follows the trail of blood and white feathers he leaves behind him for seven years, and, when she loses the trail, seeks help from the sun, the moon, and the four winds. Eventually she battles an evil enchantress and saves her husband, breaking the enchantment and turning him back into a man.
Kate Forsyth retells this German fairy tale as an historical novel set in Germany during the Nazi regime. A young woman marries a Nazi officer in order to save her father, but hates and fears her new husband. Gradually she comes to realise that he is a good man at heart, and part of an underground resistance movement in Berlin called the Red Orchestra. However, her realisation comes too late. She has unwittingly betrayed him, and must find some way to rescue him and smuggle him out of the country before he is killed.
The Red Orchestra was a real-life organisation in Berlin, made up of artists, writers, diplomats and journalists, who passed on intelligence to the American embassy, distributed leaflets encouraging opposition to Hitler, and helped people in danger from the Nazis to escape the country. They were betrayed in 1942, and many of their number were executed.
The Beast's Garden is a compelling and beautiful love story, filled with drama and intrigue and heartbreak, taking place between 1938 and 1943, in Berlin, Germany.
A sumptuous and sensual tale of power, romance, family, and betrayal centered around four sisters and one King. Carefully researched and ornately detailed, The Sisters of Versailles is the first book in an exciting new historical fiction trilogy about King Louis XV, France's most "well-beloved" monarch, and the women who shared his heart and his bed.
Goodness, but sisters are a thing to fear.
Set against the lavish backdrop of the French Court in the early years of the 18th century, The Sisters of Versailles is the extraordinary tale of the five Nesle sisters: Louise, Pauline, Diane, Hortense, and Marie-Anne, four of whom became mistresses to King Louis XV. Their scandalous story is stranger than fiction but true in every shocking, amusing, and heartbreaking detail.
Court intriguers are beginning to sense that young King Louis XV, after seven years of marriage, is tiring of his Polish wife. The race is on to find a mistress for the royal bed as various factions put their best foot - and women - forward. The King's scheming ministers push Louise, the eldest of the aristocratic Nesle sisters, into the arms of the King. Over the following decade, the four sisters:sweet, naive Louise; ambitious Pauline; complacent Diane, and cunning Marie Anne, will conspire, betray, suffer, and triumph in a desperate fight for both love and power.
In the tradition of The Other Boleyn Girl, The Sisters of Versailles is a clever, intelligent, and absorbing novel that historical fiction fans will devour. Based on meticulous research on a group of women never before written about in English, Sally Christie's stunning debut is a complex exploration of power and sisterhood; of the admiration, competition, and even hatred that can coexist within a family when the stakes are high enough.
The international bestselling author of Into the Wilderness makes her highly anticipated return with a remarkable epic about two female doctors in nineteenth-century New York and the transcendent power of courage and love…
The year is 1883, and in New York City, it's a time of dizzying splendor, crushing poverty, and tremendous change. With the gravity-defying Brooklyn Bridge nearly complete and New York in the grips of anti-vice crusader Anthony Comstock, Anna Savard and her cousin Sophie—both graduates of the Woman's Medical School—treat the city's most vulnerable, even if doing so may put everything they've strived for in jeopardy.
Anna's work has placed her in the path of four children who have lost everything, just as she herself once had. Faced with their helplessness, Anna must make an unexpected choice between holding on to the pain of her past and letting love into her life.
For Sophie, an obstetrician and the orphaned daughter of free people of color, helping a desperate young mother forces her to grapple with the oath she took as a doctor—and thrusts her and Anna into the orbit of Anthony Comstock, a dangerous man who considers himself the enemy of everything indecent and of anyone who dares to defy him.
With its vivid depictions of old New York and its enormously appealing characters, The Gilded Hour is a captivating, emotionally gripping novel that proves Sara Donati is an author at the height of her powers.
In her enthralling, richly imagined new novel, Brandy Purdy, author of The Ripper's Wife, creates a compelling portrait of the real, complex woman behind an unthinkable crime. Lizzie Borden should be one of the most fortunate young women in Fall River, Massachusetts. Her wealthy father could easily afford to provide his daughters with fashionable clothes, travel, and a rich, cultured life. Instead, haunted by the ghost of childhood poverty, he forces Lizzie and her sister, Emma, to live frugally, denying them the simplest modern conveniences. Suitors and socializing are discouraged, as her father views all gentleman callers as fortune hunters. Lonely and deeply unhappy, Lizzie stifles her frustration, dreaming of the freedom that will come with her eventual inheritance. But soon, even that chance of future independence seems about to be ripped away. And on a stifling August day in 1892, Lizzie's long-simmering anger finally explodes… Vividly written and thought-provoking, The Secrets of Lizzie Borden explores the fascinating events behind a crime that continues to grip the public imagination—a story of how thwarted desires and desperate rage could turn a dutiful daughter into a notorious killer.