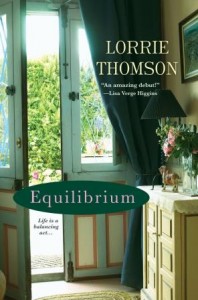 Why did you choose this book?
The cover is so pretty and the synopsis drew me in
When did you read this book?
July 2013
Who should read this book?
fans of contemporary fiction that deals with difficult subjects
In the year since her husband died, Laura Klein's world has shifted on its axis. It's not just that she's raising two children alone—fact is, Laura always did the parenting for both of them. But now her fifteen-year-old daughter, Darcy, is dating a boy with a fast car and faster hands, and thirteen-year-old Troy's attitude has plummeted along with his voice. Just when she's resigning herself to a life of worry and selfless support, her charismatic new tenant offers what Laura least expects: a second chance.
Darcy isn't surprised her mom doesn't understand her, though she never imagined her suddenly acting like a love-struck teen herself. With Troy starting to show signs of their father's bipolar disorder, and her best friend increasingly secretive, Darcy turns to her new boyfriend, Nick, for support. Yet Nick has a troubled side of his own, forcing Darcy toward life-altering choices.
Exploring the effects of grief on both mother and daughter, Equilibrium is a thoughtful, resolutely uplifting novel about finding the balance between holding on and letting go, between knowing when to mourn and when to hope, and between the love we seek and the love we choose to give.
I was first drawn to this book by the cover and the cover blurb...."Life is a balancing act..." Then I read the synopsis and knew this was a book I had to pick up!
Laura Klein is a widow with two teenaged children. One year ago, her bipolar husband committed suicide, and the family is still struggling with the after effects; not only the affects of his suicide, but also the affects of watching him battle his illness for many years. Laura always has in the back of her mind that the illness may have been passed on to her children, Darcy and Troy, and doesn't quite realize that her children share this same fear. Darcy is fifteen and going through a rough time. She becomes involved with the new boy, Nick, a 'bad' boy, and together they test Laura's boundaries. Troy is a thoughtful and quiet thirteen year old. As the anniversary of her husband's death approaches, Laura realizes that the money is running out, and before long she will need to find a job. So when her friend suggests she get a renter, she agrees to rent her husband's former studio apartment to a young and attractive emergency room doctor, who quickly becomes more than a tenant.
The book started out a little slow, especially with the telling of Laura's history with her husband; how they met and their stuggles with his illness. But the story picked up steam rapidly. Towards the end, there was even a bit of suspense involving Darcy and Nick. The book spent a lot of time on the relationship of Laura and Darcy, and their feelings. I would have liked to have seen a bit more of Troy and what he was thinking and feeling. Sometimes he was 'just there' in the background, not really doing much to move the story along. I also would have liked to have learned more about Darcy's friends, Cam and Heather, and where their friendship with Darcy was headed at the end of the book. And I REALLY would have liked to have known more about what happened with Nick. He may have been my favorite character in the book; a 'typical bad boy' but underneath it all, a good, but very confused, kid.
This would make an excellent book club selection. There is plenty to dicuss with subjects ranging from mental illness to abuse to tough teen issues like drugs, alcohol, and sex. There are also questions at the end of the book to help guide your discussion.
Lorrie Thomson lives in New Hampshire with her husband and their children. When she's not reading, writing, or hunting for collectibles, her family lets her tag along for camping adventures, daylong paddles, and hikes up 4,000 footers.
My Rating:
★★★1/2
3-1/2 Stars
This book review is included in a tour by TLC Book Tours. I received a copy of the book in return for an honest review, which you can read above.