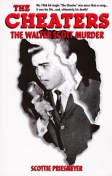 The Cheaters: The Walter Scott Murder
Why did you choose this book?
This was a book club selection
When did you read this book?
September 2012
Who should read this book?
readers of 'true crime' stories or locals
This riveting true-crime focuses on the motivating factors of lust, greed, and cheating, which triggered the murder of Walter Scott, the singer of the national hit song "The Cheater." The pages recreate Scott's struggle to attain stardom, sexual passion, the gruesome discovery of Scott's body in a cistern, and years of legal maneuvers in a faltering justice system
I read this book as the a couple of years ago as a selection for my book club, but never posted my review. So here it is now! I was interested in the book because this story happened in my own 'backyard'. I grew up listening to the group sing The Cheater and these were local celebrities, so I was somewhat familiar with the story, having followed it when it happened. The story itself was interesting, and I enjoyed learning some of the details that I did not know.
However, as interesting as the story itself was, the writing was terrible. The book was in need of a good editor before it went to press. Normally, I don't think it would have bothered me as much. Usually when I come across gramatical errors, I do notice them, but I brush them off. And when a sentence or paragraph is poorly written, I will subconsciously rewrite it to make sense, then move on.
But with this book, I made the mistake of googling the author before I read it. See, in the introduction, the author mentions that he did not really follow the band and knew little of the story, but was convinced by his friends to write the book, and resigned his position as a 'tenured HS English teacher' to pursue the story. When I googled, I learned that 'he' is a 'she', and she is a professor teaching creative writing at the local community college, and that she is poorly rated as a teacher on 'rate my professor' sites. After reading some of her teaching reviews, I was disappointed to learn that the book is so poorly written. True, the book is nearly 20 years old, and she may have learned a lot about writing since then, but... Well, never mind....I'm supposed to be reviewing the book and not the author!
It is an interesting story, and you will probably get angry at times as you read through it. 'Mrs. Walter Scott' was not a very nice person. One example; she turned her children against their grandparents and changed her number within days of the disappearance of her husband so that the grandparents could have no contact with the children. And that is just one example. If you enjoy 'true crime' stories, you will enjoy this book, despite the poor writing.