Every Tuesday Diane at
Bibliophile by the Sea
hosts
First Chapter First Paragraph Tuesday Intros
, where you can share the first paragraph, or a few, of a book you are reading or thinking about reading soon
Teaser Tuesdays
is a weekly bookish meme, hosted by MizB of
Should Be Reading
.
Anyone can play along!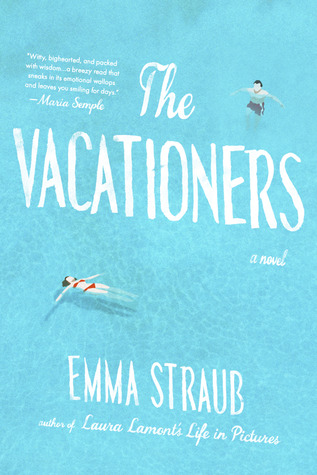 An irresistible, deftly observed novel about the secrets, joys, and jealousies that rise to the surface over the course of an American family's two-week stay in Mallorca.
For the Posts, a two-week trip to the Balearic island of Mallorca with their extended family and friends is a celebration: Franny and Jim are observing their thirty-fifth wedding anniversary, and their daughter, Sylvia, has graduated from high school. The sunlit island, its mountains and beaches, its tapas and tennis courts, also promise an escape from the tensions simmering at home in Manhattan. But all does not go according to plan: over the course of the vacation, secrets come to light, old and new humiliations are experienced, childhood rivalries resurface, and ancient wounds are exacerbated.
This is a story of the sides of ourselves that we choose to show and those we try to conceal, of the ways we tear each other down and build each other up again, and the bonds that ultimately hold us together. With wry humor and tremendous heart, Emma Straub delivers a richly satisfying story of a family in the midst of a maelstrom of change, emerging irrevocably altered yet whole.
Leaving always came as a surprise, no matter how long the dates had been looming on the calendar. Jim had packed his suitcase the night before, but now, moments before their scheduled departure, he was wavering. Had he packed enough books? He walked back and forth in front of the bookshelf in his office, pulling novels out by their spines and then sliding them back into place. Had he packed his running shoes? Had he packed his shaving cream? Elsewhere in the house, Jim could hear his wife and their daughter in similar last-minute throes of panic, running up and down the stairs with one last item that had been forgotten in a heap by the door.
Most retirees had chosen to leave their jobs, after decades of service and repetitive-stress disorders, and that wasn't what had happened to Jim. What had happened to Jim. Franny kicked a loose rock.
(These quotes are from uncorrected advance proofs. Please refer to the final printed book for corrected quotes!)
So...what do you think? Is this one you would pick up? Leave a comment below!