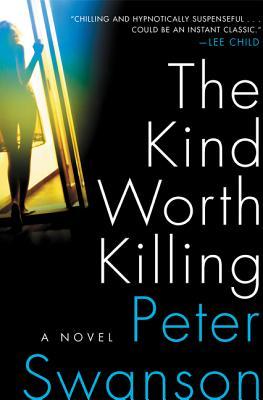 Why did you choose this book?
I just read another by the same author
When did you read this book?
February 2015
Who should read this book?
readers who enjoy psychological suspense
Source:
Publisher (Harper Collins)
A dark and devious literary suspense novel about a random encounter, sex, and a conversation that quickly turns to murder--a modern reimagining of Patricia Highsmith's classic Strangers on a Train--from the author of the acclaimed The Girl with a Clock for a Heart
On a late flight from London to Boston, Ted Severson meets the stunning and mysterious Lily Kintner. Over one too many martinis, the two strangers play a game, one in which they begin revealing more and more intimate details about themselves. Ted talks about his wife, Miranda--how his marriage has gone stale, how a week ago he caught her in a serious betrayal. . . . Maybe they were a mismatch from the start, he the rich businessman, she the beautiful artist. But what begins as playful banter between Ted and Lily takes a swift turn when Ted claims, half-seriously, that he would like to kill his wife for what she's done. Then Lily surprises him by saying that she'd like to help. After all, everyone dies, what difference does it make if a few bad apples get pushed along a little sooner than life intended?
Back in Boston, Ted and Lily forge an unusual bond and talk about the ways Ted might get out of his marriage. But Lily has her own dark history she's not sharing with Ted, a legacy of murder that stems from childhood. And Ted is keeping something from Lily as well--so as they move their plan forward, his motivation becomes less about getting Miranda out of his life and more about getting Lily into it. But as Ted begins to fall in love with Lily, he grows anxious about any unseen holes in their scheme that could give them away. And suddenly the two are pulled into a very lethal game of cat and mouse, one in which there may be more than one loser and more than one of them left dead when it's all over.
WOW! If you enjoy psychological suspense, you NEED to pick this one up! This is not normally my first choice in genres, but I had just read and reviewed
The Girl With A Clock For A Heart
by the same author. So when I saw that Harper Collins was giving away a limited number of ecopies of this book, I grabbed it. I have to admit, I didn't expect to enjoy it as much as I did. It took me awhile to get interested in the earlier novel, and once I did I enjoyed it, but it didn't stand out for me. But this one…..WOW! It hooked me from the beginning and after the first twenty-five pages or so, I could NOT put this one down. I admit, I stayed up late into the night reading.
The Kind Worth Killing
was so good! I got pretty attached to a few of the characters, which can be a mistake in a novel like this! And there were so many twists and turns. I don't want to spoil anything by saying more, but this will definitely keep you on your toes, as you try to understand the role everyone plays! There are murders and deaths and schemes and detectives…...
The only thing I did not like so much was the ending. Just when you think there is resolution, there is not. There is no neat tying up of the loose ends.There is an implied resolution, but it is not defined. As you probably know, I like my endings neat and tidy, with an epilogue and a 'happily ever after'. Probably not a realistic expectation in a novel like this, though, so it won't take away from your enjoyment of the book! If you enjoy suspense and thrillers, grab this one!
My Rating:
★★★★1/2 4-1/2 Stars
I received my copy of this book through a giveaway from the publisher, Harper Collins.