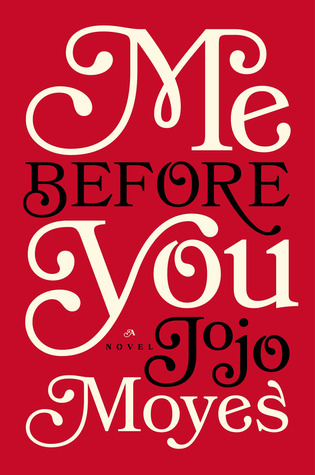 Why did you choose this book?
This was a book club selection
When did you read this book?
April 2015
Who should read this book?
readers who enjoy having their heart ripped out
Here is a synopsis
of
Me Before You
from Goodreads
Lou Clark knows lots of things. She knows how many footsteps there are between the bus stop and home. She knows she likes working in The Buttered Bun tea shop and she knows she might not love her boyfriend Patrick.
What Lou doesn't know is she's about to lose her job or that knowing what's coming is what keeps her sane.
Will Traynor knows his motorcycle accident took away his desire to live. He knows everything feels very small and rather joyless now and he knows exactly how he's going to put a stop to that.
What Will doesn't know is that Lou is about to burst into his world in a riot of colour. And neither of them knows they're going to change the other for all time.
I've heard a lot of good things about Jojo Moyes and been meaning to pick her up for awhile now, but just hadn't gotten around to it. So I was happy when Me Before You was chosen as a selection for our book club. Happy….but leary. See, I thought Jojo Moyes was one of those authors that wrote light, happy reads with not much discussion value. Boy, was I wrong!
I've put off writing this review, because I don't even know how to begin reviewing it without spoiling it! There is so much to discuss, and the ending will have you thinking, and talking about this book, for days if not weeks! This is a GREAT selection for book clubs!
Louise Clark is an unconventional young women who has lost her job and is scrambling to find a new one quickly, as her family needs her money to survive. She reluctantly takes a job as a caregiver for a quadriplegic. Will Traynor is a wealthy young man, a successful businessman and an adventurer, who has been recently paralyzed in an accident and has very limited movement; he can move his neck and has limited movement in his hands. This leaves him surly and bitter.
To say anything beyond that really risks giving away some important parts of the story. In fact, I recommend you avoid ALL reviews until you have finished this book, as it will have the greatest impact if you do not know where it is going. But it is well worth reading, and once you are finished, you are going to want to talk about it and read the reviews to see how others felt! My only complaint about the book is that I really, really wanted to know how it ended, and felt like I was rushing through the book because I NEEDED to know the whole story to know! LOL! Definitely read this one! You'll be glad you did!
I highly recommend this one as a book club selection. There are review questions at the end of the book. And read it soon....there is a sequel coming out in the fall!
My Rating:
★★★★1/2 4-1/2 Stars