Every Tuesday Diane at
Bibliophile by the Sea
hosts
First Chapter First Paragraph Tuesday Intros
, where you can share the first paragraph, or a few, of a book you are reading or thinking about reading soon.
Teaser Tuesdays
is a weekly bookish meme, hosted by MizB of
A Daily Rhythm
.
Anyone can play along!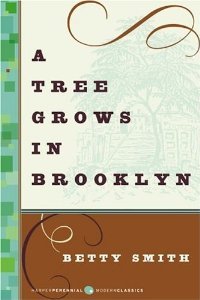 The beloved American classic about a young girl's coming-of-age at the turn of the century, Betty Smith's A Tree Grows in Brooklyn is a poignant and moving tale filled with compassion and cruelty, laughter and heartache, crowded with life and people and incident. The story of young, sensitive, and idealistic Francie Nolan and her bittersweet formative years in the slums of Williamsburg has enchanted and inspired millions of readers for more than sixty years. By turns overwhelming, sublime, heartbreaking, and uplifting, the daily experiences of the unforgettable Nolans are raw with honesty and tenderly threaded with family connectedness -- in a work of literary art that brilliantly captures a unique time and place as well as incredibly rich moments of universal experience.
Serene was a word you could put to Brooklyn, New York. Especially in the summer of 1912. Somber, as a word, was better. But it did not apply to Williamsburg, Brooklyn. Prairie was lovely and Shenandoah had a beautiful sound, but you couldn't fit those words into Brooklyn. Serene was the only word for it; especially on a Saturday afternoon in summer.
A person who pulls himself up from a low environment via the bootstrap route has two choices. Having risen above his environment, he can forget it; or, he can rise above it and never forget it and keep compassion and understanding in his heart for those he has left behind him in the cruel upclimb.
So...what do you think? Is this one you would pick up? Leave a comment below!