Every Tuesday Diane at
Bibliophile by the Sea
hosts
First Chapter First Paragraph Tuesday Intros
, where you can share the first paragraph, or a few, of a book you are reading or thinking about reading soon.
Teaser Tuesdays
is a weekly bookish meme, hosted by MizB of
Should Be Reading
.
Anyone can play along!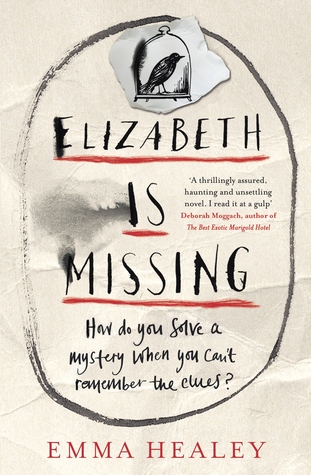 A mystery, an unsolved crime and one of the most unforgettable characters since Mark Haddon's Christopher. Meet Maud ...
'Elizabeth is missing' reads the note in Maud's pocket in her own handwriting, and the one on the wall.
Maud's been getting forgetful. She keeps buying peach slices when she has a cupboard full, forgets to drink the cups of tea she's made and writes notes to remind herself of things. But Maud is determined to discover what has happened to her friend, Elizabeth, and what it has to do with the unsolved disappearance of her sister Sukey, years back, just after the war.
A fast-paced mystery, an unforgettable voice: you will laugh and cry but you'll never forget Maud.
Maud? Was I boring you so much that you'd rather stand outside in the dark?"
A woman calls to me from the warm light of a cluttered dining room. My breath curls towards her, wet and ghostly, but no words follow. The snow, sparse but bright on the ground, reflects the light on to her face, with is drawn tight in an attempt to see. I know, though, that she can't see very well, even in the daylight.
"Come inside," she says. "It's freezing. I promise I won't say another word about frogs and snails and majolica ware."
"I wasn't bored," I say, realizing too late that she's joking. I'll be there in a minute. I'm just looking for something." In my hand is the thing I've already found, still clotted with mud. A small thing, easily missed. The broken lid of an old compact, its silver tarnished, its navy-blue enamel no longer glassy but scratched and dull. The mildewed mirror is like a window on a faded world, like a porthole looking out under the ocean. It makes me squirm with memories.
You know there was an old woman mugged around here?" Carla says, letting her long, black ponytail snake over one shoulder. "Well, actually, it was Weymouth, but it could have been here."
So...what do you think? Is this one you would pick up? Leave a comment below!